1- HENNA FANTASIA NIGHT IN PETRA OR WADI RUM ( CAN BE DONE WHEREVER IN JORDAN TOO)
Come join Henna members in opening the windows to the beauty and freedom, let us fly together with two wings, the love to Jordan and belonging to human heritage.
HENNA FANTASIA EXPERIENCE
We start by picking our guests from thier hotels in Petra region.
Our guests are received in the beautiful ball room of the old village Resort with arabic coffee, ushered by Henna Fantasia men and women dressed in authentic beautiful folklore dresses.
The show starts 8.30 pm. The Henna Fantasia family perform eight different dances with eight different themes and eight different costumes.
Between dances and when the band changes costumes, we play specially made vidoes about Jordan histroy and heritage. We explain the ancient as well as the modern histroy of Jordan and show different themes of the Jordan culture like coffe and wedding rituals.
During the show we serve gourmet desserts that are coming from Jordan heritage, Grandmother recipes!
The end of the show is rather exciting; guests are invited to participate in a dance with the Henna Family and learn some steps of Jordan dances. Taking phots is welcomed all the time!
At the end all guests are ushered to our vehicles for a safe return to thierhotels carrying unique memories of the Henna Fantasia Jordan Folklore Night.
WHY HENNA FANTASIA ?
The contents of the show are carefully researched and built to reflect authenticity; the input of reputable specialists in Jordan heritage and culture was sought and incorporated in the show. Music was selected based on songs rooted in various cultural themes. Costumes were specially desgined to strike a balance between originality and the fantasia of colours.
Our passion and love for Jordan is reflected in this experience that we gladly and proudly share every night with people coming to visit Jordan from all over the globe.
HENNA FANTASIA NIGHT , FOLKLORE DANCES FROM THE WHOLE SPECTRUM OF THE JORDANIAN CULTURE, INFORMATIVE AND ENTERTAINING DOCUMENTARIES EXHIBITING THE WAY OF LIFE IN JORDAN.
WHAT IS IN THE SPECTACULAR NIGHT OF HENNA FANTASIA?
This is the carefully designed Folklore and heritage show. It is a deep and exciting immersion of the Jordan culture. The fashion, the music, the dances and the food (desserts). We pick up our guests from any hotel in Petra of Jordan. We provide gourmet traditional desserts and Arabic coffee.
COFFEE : IN JORDAN HERITAGE
Arabian coffee is a brew of roasted coffee and cardamom, without sugar. Coffee has a lot of rituals in Jordan heritage. Henna Fantasia takes you throug the full journy of Coffee Rituals.
WEDDING : RITUALS IN JORDAN
A Jordanian wedding is a window into Jordan's traditions and customs. The ceremonies starts few nights before the wedding day.
Have you dreamt of a Jordanian wedding? Come close to your dream in Henna Fantasia.
"KARAM" : JORDAN HOSPITALITY
Hospitality (Karam) is an honor the Jordanian is always striving to seize. It is deeply ingrained in Jordan culture and people do not expect anything in return.
READY TO BE IMMERSED IN JORDAN CULTURE? TRY HENNA FANTASIA NIGHT
FOR MORE INFORMATION : https://hennafantasia.com/
---
2- Balloons Ride Over Wadi Rum only and Petra soon !
Take a bird's eye view of the beautiful scenery of the majestic mountains in Wadi Rum by climbing into a hot air balloon. Be it an indulgence for yourself or a surprise gift for a loved one, a hot air balloon ride is a unique experience. Balloon flights typically take place during the early morning hours and last for around one hour, but guests should allow 2 to 3 hours for the whole experience. Hop into one of the hot air balloons for a unique view of Wadi Rum. You will experience the desert as never before with a majestic one-hour tour of Wadi Rum from 2,000 meters above. Balloons Over Rum is a partnership in conjunction with the Royal Jordanian Gliding Club. They are a new company staffed with some of the most experienced commercial hot air balloon pilots in the world. We operate brand new balloons made in England for us by "Cameron Balloons Ltd.", probably the world's best manufacturer.
Websites and social links : http://www.balloonsoverrum.com/ & https://www.facebook.com/balloonsoverrum/
---
3- Camel Caravan Experience during Sunrise/Sunset in Wadi Rum
Don't Miss the Sunrise/Sunset of Wadi Rum , especially with Camel Caravan Experience ! Take in the cool morning/cool afternoon and watch the rising sun light up ( or disappearance of sun light during sunset ) the desert on a peaceful camel ride through stunning Wadi Rum. This is an opportunity to feel like a nomad for a few moments and witness the rustic, rural desert life. After a warm welcome, take your seat in the camel saddle ready to take in the sweeping desert views. Set off through the orange-hue valley as the sun starts to rise during sunrise or disappear during sunset ). Photo opportunities are endless, but our stop at the sunrise viewing spot is our favorite. While you watch the sunrise or sunset , enjoy traditional Bedouin tea .
---
4- Private tour with a Gala Dinner or Lunch in the heart of the desert of Wadi Rum (In Wadi Rum )
As an exclusive /private safari tour, our instructor will take you for an adrenaline dune bashing drive in the 4x4 landcruiser, camel farm visit and will provide you the opportunity to experience sand boarding (optional ) before you arrive at your own private camp with a private set up in the middle of desert for an appetizing BBQ dinner and campfire with desserts included. The private safari tour will glid you into the desert for a wonderful dune bashing experience away from the noisy crowds and touristic camps as this tour is exactly private just for you! Experiencing Camel farm visit, sand boarding, and enormous opportunities for pictures and enjoying the landscape and of course, a roaring campfire. We will fix the tranquil spot to stop and enjoy the sunset, while our team sets your private dinner in the camp. There is no commercial entertainment stuff or toilet facilities included in this option but the privacy, amazing quiet and calm desert make this experience really special. The night sky in the desert which away from the city light is stunning!
This is a really popular private safari tour option and comes highly recommended for those who prefer to enjoy the private ambiance or the tranquility and calmness of desert with a private ambience as well.
| | |
| --- | --- |
| | |
---
5- RumSky Stargazing Adventure in Wadi Rum !
NOW IT IS TIME FOR YOU TO ENJOY THE BEAUTIFUL NIGHT SKIES WITH RUM SKY !

Located in one of the most beautiful parts of Wadi Rum, RumSky allows visitors to enjoy the starry night of Wadi Rum. Their guided tour program allows you to learn more about the Universe we live in. Living in lively cities makes it more difficult to witness the magnificence of the skies and heavens. Through the innovation of science, they are able to get a little closer to the hidden wonders of the Universe. Stars, planets, nebulae, all are within your reach with RumSky. A group of Jordanians, using state of the art technology and mobile Observatory apps, started an entrepreneurial project. Adventure start with a 20-minute presentation that takes you on a journey that sheds light on the cosmos. Anchored in our solar system we venture out in the Milky Way and then travel to all parts of the Universe. As the presentation comes to a close we step out into the real world and begin our trek across the sky. Follow the light of the green laser as it takes you around the night sky, and then get your first amazing look at the sky through the optics of our telescopes, opening up the wonders of the Universe for you to see with your own eyes. They have five large telescopes (16 inch, 11 inch and 5 inch). As part of this experience, you will walk away with the keys of the ancients about reading the stars and navigation.
For more info , please visit : https://rum-sky.com/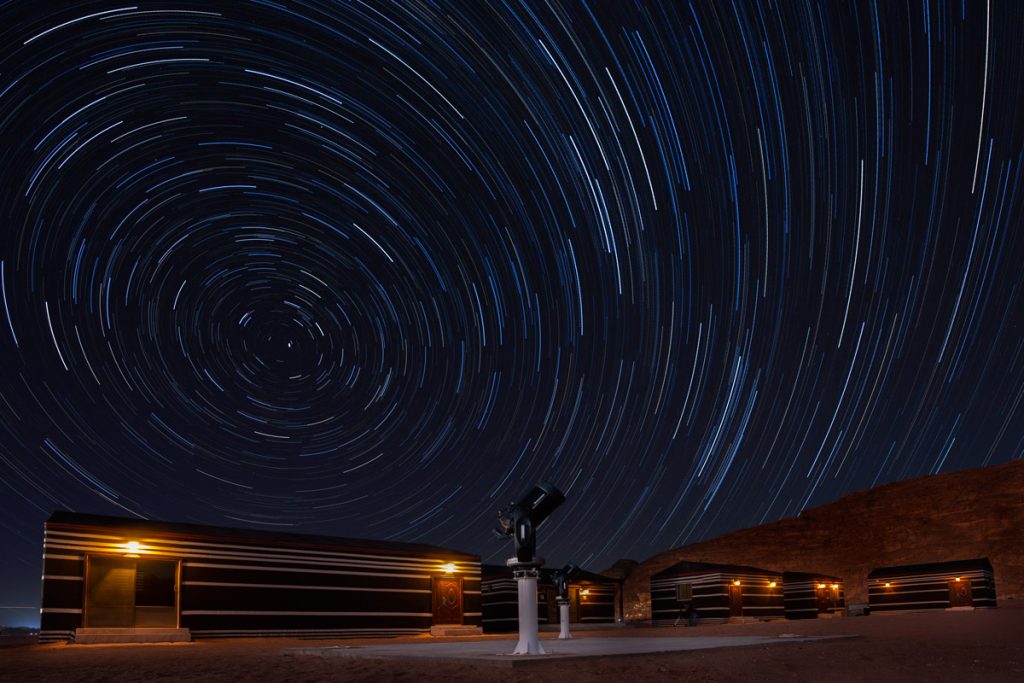 ---
6- ATV (Buggy) Riding in Wadi Rum or Wadi Araba followed by a private dinner / lunch !
We will guide you to drive in Wadi Rum or Wadi Arava , Where you will have a drive in a buggy in an Amazing scene, high adrenaline and spectacular view, not crowded with hundreds or tourists, this is the place to go. Wadi Rum & Wadi Araba are one of the greatest deserts for ATV/Buggies Ride , So quiet and golden sands , an d where you can find lot of beautiful sand dunes , something unbelievable !
ATV riding in Wadi Rum & Wadi Araba will be ended ( Van be ended ) with a Private lunch/dinner, you will have a variety of Local Jordanian Food cocked by a professional local staff of that community, the Lunch / dinner will be in a private area :
-In Wadi Rum , near the French Castle
-An area in Wadi Arava , where its history from the Roman Era, it will be in an ancient Roman Palace but has been renovated in 1999 by the Ministry Of Tourism And Antiquities .
---
7- Gala Dinner in Little Petra !
By Sunset time, 25 min before , the whole group will be collected for a special Gala Dinner in little Petra. You will head to little Petra. Al Beidha or Little Petra, is only a few kilometres from Petra and it is literally hidden away in the center of a mountain. It is believed that Little Petra was an important suburb of Petra, the entry and exit point for the trade routes to the north and north-west. The site contains buildings that have been carved into the sandstone, used as residences, storages and tombs, with water channels and cisterns. The stone is whiter than the heavy rose color of Petra. The walk through this ancient city is breathtaking and helps remind us again of the capabilities and sense of community of these ancient peoples shared. Inside Little Petra , where you will have everything ready : Evening Entertainment program Gala Dinner at Little Petra with Henna Fantasia Entertainment Group . The night life there will be decorated with attractive lights as candles lit in the caves and rocks hole , would be unbelievable !
| | |
| --- | --- |
| | |
---
8- Roman Themed Gala dinner & Roman functions !
Enjoy a Roman themed dinner inside the Roman City of Jerash. Located in the northern part of Jordan, the city of Jerash is known to be within the most preserved Greco- Roman cities, a themed dinner with Roman atmosphere and Roman fighters is organized at the client's convenience, with gladiator show !
---
9- The Bedouin Nights (Gala Dinner) !
A party themed with a traditional bedouin atmospheres such as (decorations, music, and setup). The setup will be in a tent/camp in the desert.
Dinner: This can be a buffet or seated affair. The menu can comprise traditional Arabic cuisine, including the famous mezze, or international dishes can be opted for and it can be arranged to have dinner cooked on site by professional chefs.
Decorations:
Bedouin tents with full decorations such as carpets, traditional rugs, traditional lights (Fawanees) and Bedouin tools.
Torches to be distributed in all around the Bedouin tent.
Special set up (Bedouin low seats with colored cushins).
Table center piece with traditional candle holders for tables.
Arabic Coffee Man: A Bedouin man with traditional Bedouin costume to serve Arabic coffee to your guests by using the traditional tools.
Bread Lady: A Bedouin lady with traditional costume to bake the bread in front of your Guests by using the old traditional Bedouin tools.
Rababah player: A Bedouin man with traditional Bedouin costume to perform the traditional Bedouin music by using the handmade Bedouin instrument (Rababah) during the arrival of your guests.
Optional entertainment:
Belly Dancer: A professional belly dancer with special music to perform for 30 minutes show.
Bedouin fortune teller: Bedouin lady wearing Bedouin costume reading hands and lucky dice.
Folkloric Show: Jordanian traditional folkloric troupe consists of 8 dancers to welcome your guests then to perform a Dabbkeh show of 30 minutes.
---
10- Scheherazade Nights (Gala Dinner) / 1001 Nights' Gala dinner !
A party themed with the famed 1001 is a combination between Traditional Arabic and Old western atmospheres such as (decorations, music, dancers, and setup). The setup will be on the beach or indoor depending on the weather conditions of the resort. A private area will be turned into a spectacle of colours, legend and dance to recreate a night of celebration staged hundreds of years back in the time of myth and charm.
1-Dinner: This can be a buffet or seated affair. The menu can comprise traditional Arabic cuisine, including the famous mezze, or international dishes can be opted for and it can be arranged to have dinner cooked on site by professional chefs.
2-Decorations:
White gazebos and colored satin cloth to decorate.
Torches to be distributed allover the seating area.
Special set up (White leather low seats with colored cushins).
Table center piece with traditional candle holders for tables.
Colored cloth (Saya) to be used as table's runners.
Sultan tent with full decorations and Royal chair.
3-Sound and Light:
Par Cans Lighting for the walls, buffet area, fortune teller corner and the outside trees.
Moving heads and Par-Cans on truss for dance floor and buffet area.
Full Sound System for the DJ.
4-Shahrazad and Shahrayar: Young man and young lady with old 1001 traditional dress to act as Shahrazad and Shahrayar.
5-Shahrayar Court: Actors to act as soldiers, courts and ministers to company Shahrayar.
6-Ladies to act as Odalisques for Shahrayar: Ladies with 1001 traditional costume to welcome guests and to act as slaves for Shahrayar.
---
11- The Roman Army and Chariot Experience !
Upon entering the ancient city of Gerasa (Jerash), one of the first things that will catch your eye among the ruins is the impressive and well-kept hippodrome. While having nothing to do with hippos, a hippodrome is an arena from Roman times that would hold chariot races and gladiator fights. Although the hippodrome in Jerash has laid dormant for nearly 2000 years, it's brought back to life by an individual who designed The Roman Army and Chariot Experience. RACE, as it is known, will take you back to the Roman times as you are led by a bright young Roman soldier as he tells you about the life, battles, and death of Roman legionnaires. Members of the Roman army march out of the history books
and into the hippodrome, demonstrating fighting styles, weapons, maneuvers, chants, and more. Just when you think it can't get any better, gladiators rush onto the field. They pair off and do battle, and it's up to you whether the loser lives or dies.
The grand finale is a chariot race which will keep you on the edge of your seat (which happen to be the same seats the Romans sat on some 2000 years ago). The entire event is well played out and will keep you laughing and entertained.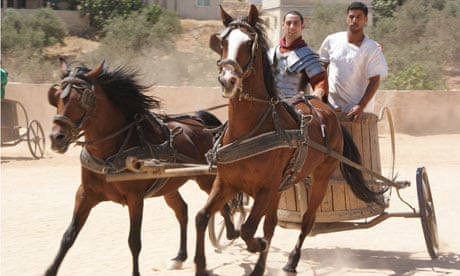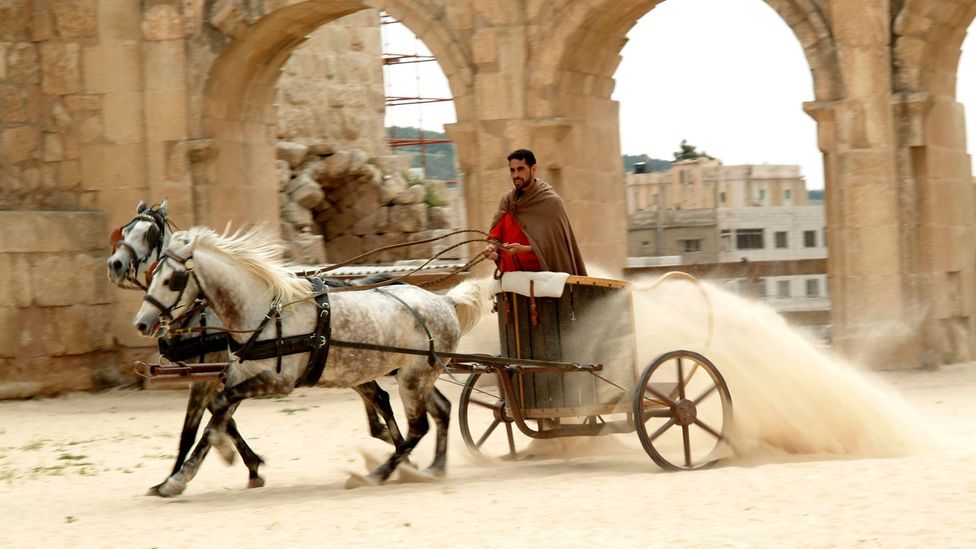 ---
12- Petra by Night
To visit Petra during daylight is awe-inspiring; to experience it at night by the light of 1,800 candles is truly out-of-this-world! Walk through the Siq to the Khazneh following a candle-lit path and enjoy the haunting music of the Bedouins at the Treasury, Tours start at 8.30pm and finish at 10.00pm every Monday, Wednesday and Thursday.
---
13- Madaba
Madaba, 30 km from Amman, has become known as the city of mosaics. The Greek Orthodox St George's Church was built in 1896 over the remains of a Byzantine church. It shelters the oldest mosaic map of in the world depicting the Holy Land, created around 560AD. It depicts major biblical sites between Lebanon and Egypt, marked in Greek. Only a third of the original, two million-piece map survives.
Activities
At the classically-influenced Madaba Mosaic Institute, small groups can join mosaicmaking courses for one day or half a day. Walk the Madaba Walk and view mosaics in different churches and buy replicas of mosaics from it's many handicraft stops. Based in an old Madaba house with its own examples of mosaic, a local family can provide lunch or dinner for small groups.
---
14- DEAD SEA !
Enjoy the sun without fear of sunburn in the world's largest natural spa. At 400m below sea level, the atmosphere contains layers of air that are saturated with oxygen and act as a natural UV filter. This means you can wallow or sunbath for longer with less risk of burning or skin cancer. The land-locked sea is fed by rivers and springs, no water flows out, and evaporation creates a high concentration of salt and minerals, thought to have healing and restorative properties beyond the pleasurable pampering of normal spa treatments. Hotels in the Dead Sea offer the best in 5 star luxury. They are ideal for a family vacation or for business meetings and banquets. Upscale dining and spa facilities are offered together with invigorating treatments that use natural Dead Sea elements.
Activities
Black mud of the Dead Sea enriches your skin with therapeutic minerals that leave you feeling rejuvenated and energized. You can experience a mud bath on the beaches of the major hotels or retreat to the more controlled environment of the hotel spa, where a range of mineral treatments help you unwind and relax. Delegates can be presented with bath robes bearing their initials. The acronym 'spa' appropriately comes from 'Sanus per aquam' – health through water. Beneficial elements, such as sodium, magnesium, chlorine, potassium, bromide and tar are all good for the skin and joints, while bromide also helps reduce high blood pressure.
Several medical conditions are being successfully treated here, notably psoriasis and acne. An introduction to the treatments may form a focus for a pharmaceutical group.
The Dead Sea Panoramaic Complex
Is a complex of regional museum about the Dead Sea, panorama lookout, and restaurant and conference hall. It is located on a steep cliff high above the Dead Sea near Hammamet Ma'in it is accessible from both the Dead Sea and Madaba by car. As the name suggests it has a magnificent view of the Dead Sea and the hills beyond it. Watching the sunset from here is a wonderful experience. This little corner of heaven is the perfect place for meetings, conferences, private functions, weddings and romantic dinners. The complex incorporates also The Dead Sea Ecological Museum. The museum is run by the Royal Society for the Conservation of Nature.
---
15- Zuwar-City Helicopter Tour
Explore the astounding wonders of Jordan, experience its diversity and bask in the warmth of Jordanian hospitality while transiting via Amman to your final destination.'Zuwar' is Arabic for 'visitors', and in Jordan, visitors are what makes it all worthwhile. Therefore, wherever your destination might be, whether you are traveling for business or pleasure, alone or with family or friends, you are invited to indulge in Jordan's phenomenal beauty and spice up your trip by visiting the home of Petra and the Dead Sea.
Zuwar treats transit passengers by offering them accommodation in three-, four and five-star hotels in Petra and Madaba, in addition to a wide variety of half- and full-day tours to the main cities and tourist attractions, such as Amman, Jerash, Petra, Dead Sea, Mount Nebo, the Baptism Site and the Desert Castles, among others. Zuwar services also include "meet and assist" at Queen Alia International Airport, transfers from/to the airport, lunch or dinner at traditional restaurants and sites visits.
If you are staying for a limited number of hours, give your taste buds a treat and savor the delicious Jordanian dishes over dinner or lunch at a traditional restaurant through Zuwar Dining packages.
So next time your travels take you through Amman, we invite you to make yourself at home in our home and culture by joining any Zuwar tour and share your stories with your friends, family and beloved ones.
* Capacity of helicopter: Up to 3 passengers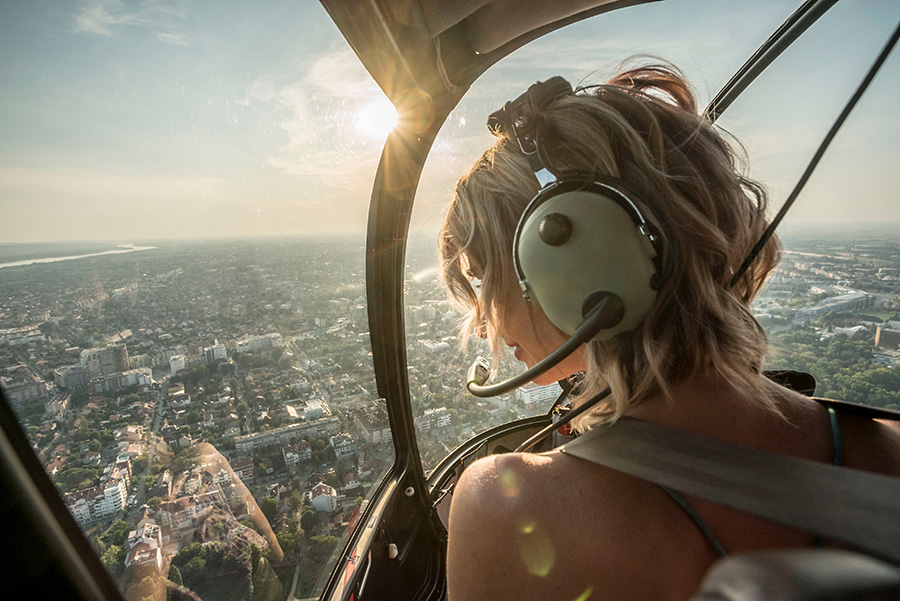 ---
16- Oryx Safari and Falconry
Go on the Oryx Safari at Shaumari Wildlife Reserve for a unique experience that is fun for the entire family. Shaumari Wildlife Reserve is home to the critically endangered Arabian Oryx and Persian Onager. The reserve also is home to desert gazelles, striped hyenas, jackals, wolves, foxes and wide array of wild animals. On the Oryx Safari Trail you will see these majestic creatures in their natural environment while learning interesting aspects of each animal's behavior.
Oryx Safari Tour (Long Trail)
Guided only
Time: 3 – 4 hours.
Altitude: 520 meters above sea level
Group size: seven persons per car
Description: Your professional nature guide will meet you at the gate to the Shaumari Wildlife Reserve in converted Land Cruiser safari vehicles. The tour begins with a brief about the reserve and what to expect on your journey through the desert. Midway through the safari, you will stop for a picnic and enjoy a hot cup of tea while taking in the beautiful semi-desert landscape of Shaumari. A reserve is an amazing place where you will learn about Shaumari's unusual desert habitats and conservation history.
Oryx Safari Trail brings you close to one of the region's most magnificent (and endangered) wild animals: the Arabian Oryx. This large white antelope, with its long, pointed horns, is an icon of Arabia and is thought to be the origin of the mythical unicorn. While touring Shaumari, you may also see the Persian Onager, another critically endangered species breeding successfully in the reserve. While we cannot guarantee that you will see any big animals on your trip, you will experience the special character of the Eastern Desert, with its surprising variety of vegetation and subtle colors.
During your tour, you will learn the basic principles of animal tracking and practice reading tracks. Your guide will also provide an overview of the reserve's vegetation, pointing out different kinds of native plants and herbs and their uses.
In addition to the safari, guests will also see falconry displays and the Oryx breeding enclosure.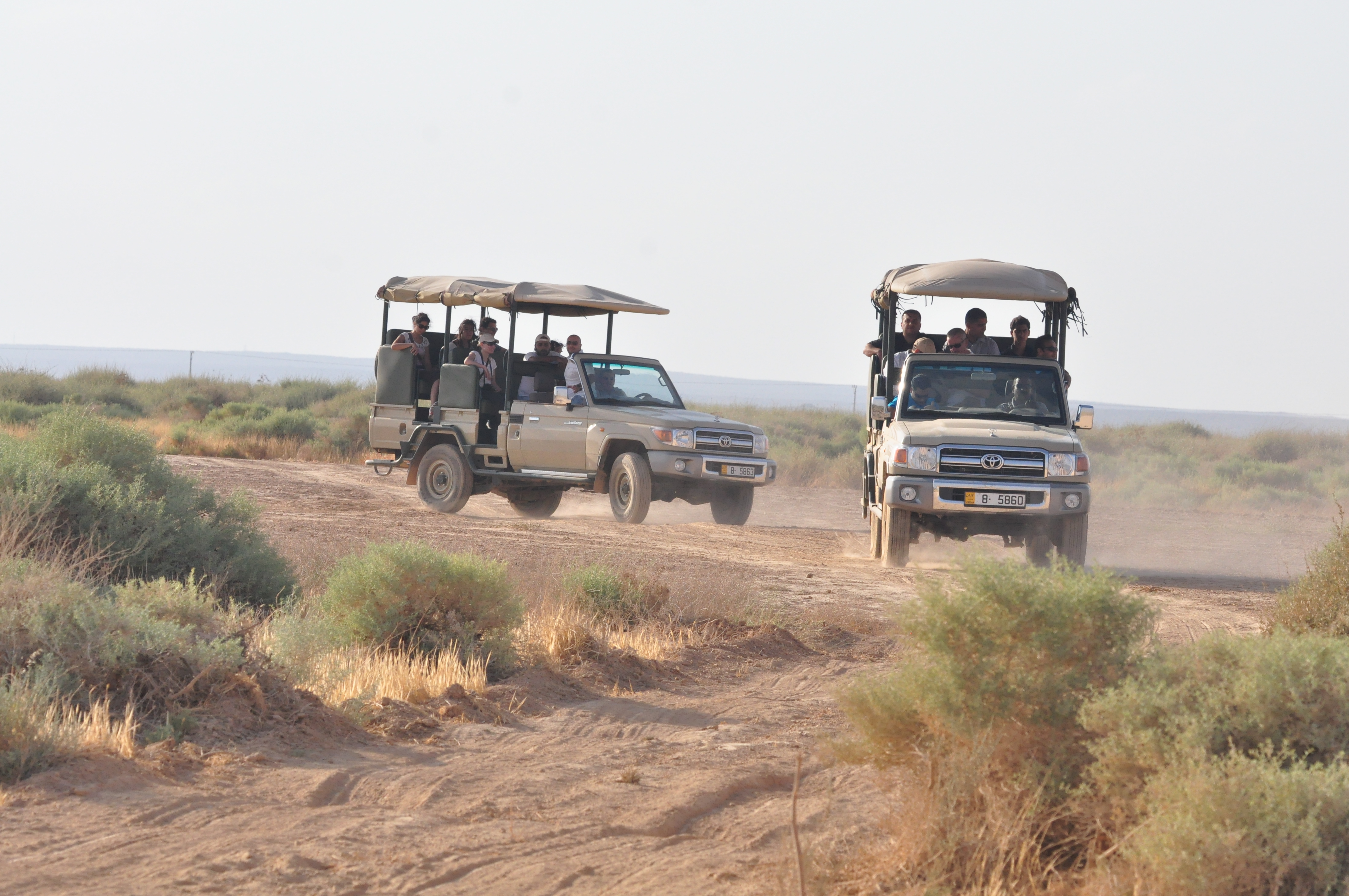 ---
17- ROYAL AUTOMOBILE MUSEUM
If you love history and have an interest in cars this is the place for you!
Home to a collection of cars and motorbikes owned by King Abdullah I, King Talal and King Hussein of Jordan. The museum depicts history from 1916 to the modern days displaying a wide range of rare classic cars and motorbikes that have a history with the royal family.
The Museum is equipped with electronic narration in Arabic, English, Spanish, French, and German. Kids Narration in Arabic is available as well.
"The Royal Automobile Museum is the first public automotive museum in the Arab region. Inaugurated by His Majesty King Abdullah II in 2003, it serves as a tribute to the late King Hussein while showcasing part of Jordan's history.The museum displays 80 of the late King's cars and motorcycles, some dating as back as 1909. Standing inpristine condition, each vehicle tells a unique story along the timeline of the late King's life. Together they highlight the 47-year reign of King Hussein and the history of the Kingdom from the era of His MajestyKing Abdullah I in the early 1920 sthrough the era of His Majesty King Abdullah II today"